When I first heard about this I just assumed someone had messed up a pretty fun April Fools joke by posting it early. Boy was I wrong! Turns out my current man crush, the genius that is currently our only hope for a kickass future, is currently selling a flamethrower through his Boring Company. You know, the company that are going to be boring tunnels under LA for the underground roadway network. You can catch the video of that project here.
So it turns out there is history here. When asked by a Twitter follower what the company would sell when it ran out of its limited run of 50,000 branded hats Elon responded 'a flamethrower'. No one thought anything of it. It was a pretty good off the cuff. Turns out Elon does not joke around. What he says he does. On Saturday the 27th The Boring Company unveiled its flamethrower, just in case you wanted an eccentric way to spend $500. You can get one, whilst the item is still in stock, here.
Now this sounds crazy, who would buy a flamethrower? Turns out, loads of people. It has been reported by TESLARATI that sales have exceeded $2 million in the first 24 hours! You can see the flamethrower at work on Elon's Instagram here and here. The listing has some of the funniest, driest humour copy I have ever read:
Guaranteed to liven up any party!
World's safest flamethrower!
-Fire extinguisher sold separately (for exorbitant amounts of money)
-Taxes and shipping will be added at checkout
-Additional customs fees may apply for international orders because of laws
-International customers can receive a full refund if not happy with said fees
-Before shipping, aspiring flamethrower aficionados will be sent a terms and conditions rhyme for review and acceptance
-Starts shipping in spring
-May not be used on Boring Company decorative lacquered hay bales or Boring Company dockside munitions warehouses
-Buy an overpriced Boring Company fire extinguisher! You can definitely buy one for less elsewhere, but this one comes with a cool sticker and the button is conveniently riiight above.
So what's going on? Has the world gone mad? Quite possibly. Some took to Twitter to accuse the inventor and entrepreneur of creating a supply and demand, giving us the weapons to fight a zombie apocalypse whilst also secretly manufacturing the zombies. He was quick to refute that. A little too quick if you ask me.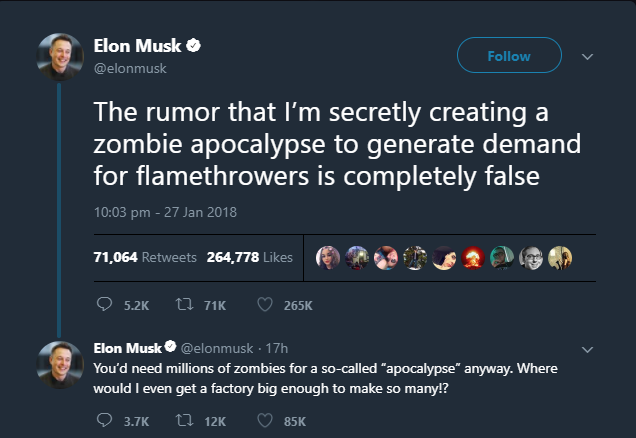 I'll be honest I'm not sure what's going on. Whether a brilliant viral marketing campaign to draw more attention and funding in for The Boring Company or just an eccentric businessman trolling the world, I'm always happy to read and report on more of this. Mr Musk, you're one of a kind!